What is Saturday Spotlight?
It's where I drag bloggers onto my blog for an interview. It's not part of a hop or any organized event. It's merely a way to feature bloggers and get inside their heads a bit. Like a psych session, but fun.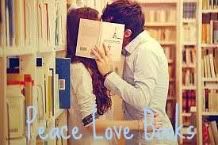 Jessica @ Peace Love Books
ABOUT THE BLOG
When did your blog come into existence?
Peace Love Books was born on May 18, 2011, right when my senior year of high school was ending. I can't believe it's been over three years now since my little old blog started!
What makes your blog yours, meaning unique?
I think Peace Love Books is unique because I review a wide variety of genres. There are a lot of YA book bloggers out there and, while I love young adult, I've broadened my tastes over the years and now review books that are YA, contemporary romance, paranormal romance, chick-lit, and historical romance. I like how I get to mix things up by reading both adult and young adult so that I never get bored with what I'm reading.
ABOUT THE BLOGGER
How did the blog-bug bite (why did you start blogging)?
You know, I really don't know how I stumbled across book blogs three years ago. Somehow, though, I found the glorious little corner of the internet where book blogs existed and instantly fell in love. I've always been a reader, so having a book blog was my perfect outlet to share my love and passion for reading.
Which book review of yours are you particularly proud of?
Hmmm, the one that immediately jumps to mind is my review of Eleanor & Park by Rainbow Rowell. I had read it right after it came out, so I hadn't heard about all of the hype behind the novel. Instead, I was able to go into the book without any expectations and read it with a fresh pair of eyes. I truly loved the book and was able to explain why I liked the book, not why I agreed with all of the other raving reviews out there.
Is there a blog(s) that inspired you/still inspires you?
Oh, there are so many book blogs that I have bookmarks. Some of my favorites are Maji Bookshelf, GReads!, and Books and Sensibility.
Five books everyone should read:
While I could list my absolute favorite books that everyone would recommend, like Harry Potter, Divergent, or The Notebook, here is a list of five books that completely captured my heart and will probably never leave it…

Pride and Prejudice by Jane Austen
Crash Into You by Katie McGarry
Rules of Attraction by Simone Elkeles
The Boyfriend League by Rachel Hawthorne
The Last Song by Nicholas Sparks
ABOUT THE GAL
What got you into reading?
You know what? I don't even remember a time where I didn't like reading. My mom is a huge reader, so I guess it just runs in the family! Even before I started blogging, I was never found without a book in my hand. It's in my blood.
What is your ideal reading spot?
Definitely a huge, comfy couch with a warm, fuzzy blanket across my lap. A nice cold glass of lemonade in the summer or a hot cup of tea in the winter is also a much-needed addition!
What are three things people may not know about you?
I have a fraternal twin sister named Alexis who I absolutely love to death.
I am obsessed with running and run every single morning. I've run two half-marathons and plan on running another one in May of 2015.
I learned to knit about three years ago and haven't looked back! I always have a project going and even started a knitting club where I go to school.
Which Hogwarts House would you be sorted into, and why?
Definitely Hufflepuff! I'm quirky and completely loyal to those I love.
Your fictional boyfriend is:
Wait, I have to pick one? That's so hard! But I think I'll go with someone I've been in love with ever since I read the book way back in 2009 and fell in love with YA romance: Jason from The Boyfriend League by Rachel Hawthorn. You just have to read the book to understand how utterly perfect he is!