What is Saturday Spotlight?
It's where I drag bloggers onto my blog for an interview. It's not part of a hop or any organized event. It's merely a way to feature bloggers and get inside their heads a bit. Like a psych session, but fun.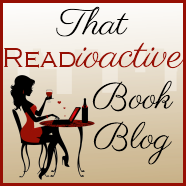 Aditi @ That Readioactive Book Blog


ABOUT THE BLOG
When did your blog come into existence?
My blog sprang into existence in August 2012. I blogged for 6 months with gusto and then real life interfered. Office work laid siege on my me-time. 2013 saw me blogging infrequently but I miss my whirlwind romance with blogging and reviewing and talking to the other bloggers so I am going to be back with a vengeance! ;)
What makes your blog yours, meaning unique?
What makes any of us unique? ;) My blog is less of a blog and more of a person to me. She's got a personality. (See here) I don't feel like an owner but more of a co-conspirator.

I don't like genre specific blogs. I like to read all over the place and that informs my reviews. And I think my personal experiences leak in too. The reviews aren't a clinical dissection of a book – more like my colorful and opinionated musings.
ABOUT THE BLOGGER
How did the blog-bug bite (why did you start blogging)?
I didn't just want to read books – I wanted to digest them. And for that you need to linger over the prose, think about the story arcs and the characters. There are a multitude of emotions that course through you while reading an entire book & what I wanted to do was record all of that. So in effect, I was not just recording when and where I read the book but how I felt throughout my experience, what I loved, what I deduced, what I learnt. Blogging is capturing my reading experience. And the surprise bonus is the interaction with the absolutely amazing blogging community. I never expected to meet so many people, albeit virtually!
Which book review of yours are you particularly proud of?
The review for Under the Never Stars by Veronica Rossi means something to me. Not because I believe it to be very well written or especially astute or anything but rather because the circumstances wherein I read the book and wrote the review - I feel connected to it.
Is there a blog(s) that inspired you/still inspires you?
Yes, absolutely. I've been following Maja's The Nocturnal Library and Keertana's Ivy Book Bindings since the start. They write thought-provoking reviews.

I've always had an eye out for the Authoress because she not only reviews but is also interested in being a writer and I think that shows in the way she understands a book or a story.

For entertainment sake, there is nothing better than Cuddlebuggery. I admire how they've grown by leaps and bounds.

And if we are talking about a blog's design, then the Bewitched Bookworms are inspiring. It's lovely.
Five books everyone should read:
The Book Thief by Markus Zusak
The Kite Runner by Khaled Hosseini
The Scorpio Races by Maggie Stiefvater
Before I Fall by Lauren Oliver
The Harry Potter series by JK Rowling
ABOUT THE GAL
What got you into reading?
Curiosity. As a teeny weeny kid I used to like books with fancy covers and illustrations. Then one day my mother got me an Enid Blyton against my wishes; began reading to me and then stopped just when it got interesting. Severely lacking patience and with curiosity like the hunger of a stray animal I devoured the book. Then another and another and.. you get the gist. I never stopped. My hunger for books was never satiated ;)
What is your ideal reading spot?
My bean bag in the corner of my room or in the local park.
What are three things people may not know about you?
I have a language fetish. I understand 6 languages and can speak 5 out of them.
I am a biotechnologist by profession. I worked with DNA cloning, gene guns and all the stuff science fiction is made of ;)
I am an ambivert. Once I get to know you I will be a happy chatterbox but if I don't know you, I am quite shy. I am absolutely no good with strangers and it took me a while to start talking to other bloggers.
Which Hogwarts House would you be sorted into, and why?
Slytherin – because they are a fascinating lot – because Severus Snape was a great man and a Slytherin – because there is a lot more to this house than was explored in the books.

Ps. I LOVE this question. It's my favorite of the entire questionnaire ;)
Your fictional boyfriend is:
Ah. That is excruciatingly difficult. I am not at all a monogamist when it comes to fictional boyfriends ;)

I nurse a sweet spot for the Lannister brothers (Jamie and Tyrion) (Game of Thrones, George RR Martin)

But if I were hard pressed to answer then I would say THE RAVEN BOYS. They are my harem. I especially like Ronan and Gansey!! <3 (The Raven Boys, Maggie Stiefvater)