What is Saturday Spotlight?
It's where I drag bloggers onto my blog for an interview. It's not part of a hop or any organized event. It's merely a way to feature bloggers and get inside their heads a bit. Like a psych session, but fun.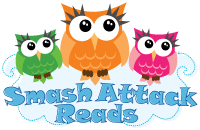 Smash @ Smash Attack Reads
When did your blog come into existence?
Well, the exact date is June 25, 2010. ZOMG! Crazy, right? I cannot believe it's been 2.5 years of bloggie fun! Weeeeee! I blogged years before that on LiveJournal and Blogger, but it was all personal/random things. I have learned SO MUCH about blogging since I started book blogging, however, because of the amazing community. ♥
Your blog in three words:
Smash Tas Tic! ;)
What makes your blog yours, meaning unique?
Well, I really try to let my personality shine. It does, as far as I can tell. That will either bring people or make them run away screaming. I find myself way more interested in reading blogs that allow us some personal insight into the blogger, and don't feel like a robot is behind the scenes. Personality is KEY, and I think you should always put your personal stamp on your blog.
If you ever had to retitle your blog, would you? And what would the new title be?
I sure wouldn't! I have no idea what it would be anyway. I got real lucky with my title, which is pretty dang unique, methinks. I've been "Smashley" my entire life. I think it's a common nickname for Ashley but I really earned it. Don't ask. Anywho, one day my friend, Brooke, called me "Smash Attack" and I loved it! I love ideas that come about in random ways.
How did the blog-bug bite (why did you start blogging)?
I blame Brooke. She was doing reviews on MySpace back in the day, and then got her own blog, Brooke Reviews. She has since started teaching middle school ELA, so while she remains surrounded by books and reading, the blog has become less important. I found my personal blog becoming overrun with bookish things, so I just made the plunge!
Do you have a review that you're particularly proud of?
Hmmm. Maybe Shadow and Bone by Leigh Bardugo? I love when a book rocks my socks because the review pretty much writes itself. Words poureth out, yo!
Is there a blog that inspired you/still inspires you?
Of course. I'm inspired by many and I'm constantly impressed by the ideas that bloggers come up with to enhance their readers' experience. I would say at this point, I'm most inspired by Amanda (On a Book Bender). I really admire her honesty, humor and bloggie know-how. The people who are able to juggle a busy job and a popular blog, like Chelsea (Vampire Book Club), really impress me, too. We all need to learn balance. That is something I'm currently struggling with.
What excites you most about being a book review blogger?
THE COMMUNITY! Hands down. Of course THE BOOKS, too, but in all honesty, I love the connections more.
Five books everyone should read:
If a new blogger came up to you for advice, what would you tell them?
What got you into reading?
I've been reading since I was a young girl. I was raised by a single mother. While she was getting ready for work in the morning, I would have my breakfast with a friend in a book. It quickly became a habit and to this day, I cannot eat a meal alone without reading. It just doesn't feel right!
Do your friends and family know about your blog?
Yes. My mom and husband support the blog but rarely read it. My mom does read many of the books I fling at her though, and ends up liking about 90%.

J
What are three things people may not know about you?
I'm a pretty open book about myself, but maybe they don't know:


I hope to be a mother soon! Hubs and I have had trouble in that department and have finally enlisted professional help. Hopefully a baby Smash is in the near future.

Regardless if we have a biological baby or not, I want to adopt a child from Rwanda. Long story.

I was going to join the Peace Corps before I met hubs.
If you had a superpower, what would it be and what would you do with it?
What? I don't already have a superpower? We social workers are heroes daily! ;) I'd actually like to time travel. It would be BAD ASS to observe history and the future firsthand. OBSERVE, not experience. I don't want the plague, yo! Or my head cut off for being too sassy. Or a number or other horrible things that might come with putting Smash in the past.