What is Saturday Spotlight?
It's where I drag bloggers onto my blog for an interview. It's not part of a hop or any organized event. It's merely a way to feature bloggers and get inside their heads a bit. Like a psych session, but fun.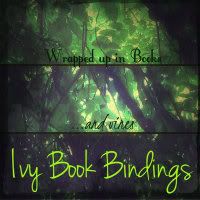 Keertana @ Ivy Book Bindings
ABOUT THE BLOG
When did your blog come into existence?
I started my blog almost exactly six months ago, so I haven't been blogging for too long, but I love it!
Your blog in three words:
Honest. Versatile. Snarky.
What makes your blog yours, meaning unique?
I think simply the fact that I tend to disagree with the majority in most of my ratings, that my voice comes through in my writing, that my passion (hopefully!) leaks through my reviews and that I try to read a variety of novels.
If you ever had to retitle your blog, would you? And what would the new title be?
I'd probably re-title my blog "Book Crush." It's short, sweet, and cute. "Ivy Book Bindings" can get a little long-winded and I realized, only after making my blog, that I had named it to go along with my background, which is gorgeous, but it limits any future redecorating schemes too.
ABOUT THE BLOGGER
How did the blog-bug bite (why did you start blogging)?
I started blogging a few months after I had joined GoodReads and started to regularly write reviews there. I grew to simply LOVE writing reviews, analyzing a novel and picking it apart and slowly, the idea of starting a blog started to grow in my mind. I was very nervous about managing blogging with my workload, but my best friend convinced me to go for it and I haven't regretted it for a moment. I love blogging! :)
Do you have a review that you're particularly proud of?
Not really...I do have reviews that I wish I could re-write, simply because I feel as if they failed to capture the amazing quality of the novel, but I don't think I have a favorite review as such. I guess just any review with a bad rating actually. I love snarky reviews and I think my true inner sarcastic self comes out in them a lot, not to mention snarky reviews are always the ones I find most helpful, so I hope that's true for other readers too.
Is there a blog that inspired you/still inspires you?
Yes, definitely! I love Maja's blog, The Nocturnal Library, for Maja's passion for books seeps through her every word. I love Heidi's blog, Bunbury in the Stacks, because her reviews are beautifully written, honesty, engaging, and she is nearly solely responsible for my huge TBR-Pile! ;) I think the two of them are definitely my biggest inspirations along with Jasprit and Rachel at The Reader's Den since they co-blog so remarkably.
What excites you most about being a book review blogger?
Comments! I loveee reading comments, especially when they come from readers who disagree with my perspective since they always mention aspects of the novel that I failed to see. I come home everyday and look forward to reading comments more than anything else, even ARCs! ;)
Five books everyone should read:
Umm...dammit, this is HARD! I think Harry Potter and Lord of the Rings are givens that everyone HAS to read, so I'm going to give five books above and beyond those AMAZING ten novels! ;)


The Book Thief by Markus Zusak
Gone With the Wind by Margaret Mitchell
Jane Eyre by Charlotte Bronte
Jellicoe Road by Melina Marchetta
Fire by Kristin Cashore
If a new blogger came up to you for advice, what would you tell them?
Be Unique. Be YOU. Most importantly, though, DON'T worry about the competition because IT'S NOT A COMPETITION. It isn't about how many page views, followers, or ARCs you have. It's about being part of a group of people who love books and reading, so just have a great time because the book blogosphere is amazing! :)
ABOUT THE GAL
What got you into reading?
Huh, I really don't know! I've been an introvert from birth and I can't draw to save my life and I'm incredibly lazy and bad at sports, so I guess I just naturally gravitated towards books. Both of my parents are avid readers and thrust encyclopedias, illustrated classics, and other non-fiction novels at me when I was young and my love for reading just...grew! :D
Do your friends and family know about your blog?
My very best friend and my entire family does know about my blog, but my other friends just know I'm a bibliophile. I don't like to mix my blogging and personal life and I can't see my other friends, or even my family, really, understanding how important my blog is to me or joining in on the craze that goes on in the blogosphere.
What are three things people may not know about you?
I am extremely slow to understand jokes. EXTREMELY. I'm that awkward person who laughs five minutes later and then starts everyone else laughing.
I love biology. Seriously, I do. I work in a genetic lab once a week and I'm OBSESSED with biology. I make stupid nerdy references like actively transporting myself against the concentration gradient when people walk the opposite direction from me. I'm a total nerd.
I'm kind of shy, but despite that, I sing. I clam up in front of people I know, but if it's a random audience, my solo performances go off okay. I really love to sing though, so I'm often humming a song while doing my work and I listen to music a lot while I read as well.
If you had a superpower, what would it be and what would you do with it?
Invisibility! I can be very socially awkward from time-to-time and I'm an introvert too, so if I could be invisible, that would be amazing. Not to mention it comes in handy during sticky situations - Harry would know that better than anyone else! ;)