What is Saturday Spotlight?
It's where I drag bloggers onto my blog for an interview. It's not part of a hop or any organized event. It's merely a way to feature bloggers and get inside their heads a bit. Like a psych session, but fun.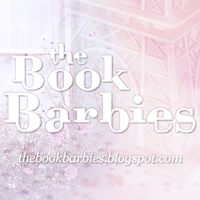 Racquel @ The Book Barbies


ABOUT THE BLOG
When did your blog come into existence?
It was actually created on August 27 of last year by Jennifer (who now blogs at A Reading Daydreamer) and I joined on September 7 (I'm past the one year milestone -- please everyone, round of applause time!)
Your blog in three words:
Contemporary, romance, I-Love-Lisa-Kleypas <- that is one word :D
What makes your blog yours, meaning unique?
There is nothing really unique about my blog. I didn't create any super awesome memes and I don't do anything super special besides reviewing books and promoting great indie books. What's unique about my blog is how un-unique it is!
If you ever had to retitle your blog, would you? And what would the new title be?
It's obvious from my last answer that I'm super un-unique and unoriginal! But I do like the phrase "Castle in Spain" which means daydreaming but that has nothing to do with books...


ABOUT THE BLOGGER
How did the blog-bug bite (why did you start blogging)?
I first learned about book blogs through YAreads, I thought it was a professional book-recommending site (I didn't even know what book + blog mean back then!) and then a few years later I discovered Goodreads and became friends with Mary and that opened the book blogging door for me!
Do you have a review that you're particularly proud of?
My review of the AWESOME Such a Rush by the AWESOME Jennifer Echols! The review is also a million words long so don't even bother clicking on the link because I know that you won't get past reading my ranting. :P
Is there a blog that inspired you/still inspires you?
Clear Eyes, Full Shelves! I discovered this book blog recently but I LOVE it, it's my all time favorite. Seriously, every single post is awesome and makes me jealous. Smexy Books is another terrific one.
What excites you most about being a book review blogger?
The community! Reading is fun but reading and discussing with other people is

fun-et. (Lets pretend that's a word.) Twitter is also great, I'm always on it -> @purplebull7 It's like one giant never-ending book party. Does NOT get better than that.
Five books everyone should read:
I wouldn't recommend these to EVERYONE (I don't read "everyone" books) but definitely to romance and/or YA fans.


Blue-Eyed Devil by Lisa Klyepas (also known as the Carrie Underwood song book :D)
If a new blogger came up to you for advice, what would you tell them?
Don't get caught up with too many review books. When you have ten million review books to read, you'll want to read something that's not for review which will make you stress out (in my experience). Read what YOU want. Review what YOU want. Eat some chocolate.


ABOUT THE GAL
What got you into reading?
When I moved to the US in 2006, my parents bought me a whole lot of MG books to help strengthen my English. I've been an on/off reader ever since but when I joined my blog and finally learned about my reading tastes, no more reading slumps and I'm on "on" mode all the time!
Do your friends and family know about your blog?
Nope. I'm in the closet as much as my friend from psychology who won't admit he's gay. That's a bad analogy because everyone knows he's in the closet... nobody knows I even have a closet.
What are three things people may not know about you?
English is not my first language! I speak Arabic at home. I'm terrified of ALL dogs (I will cry, I will have a panic attack and I might even die if one gets near me). I like make-up. Like a lot a lot. If I weren't so lazy, I would have dramatic, club make-up on 24/7. Yup, I'm that girl.
If you had a superpower, what would it be and what would you do with it?
The power of successfully acquiring a super handsome, super rich and super nice sugary daddy so I won't have to work and could read all day. And eat. And travel! Anybody know an available sugar daddy, hit me up!!
Amelia, I know I've graced your blog with my presence. You are welcome. :D